Meet Our Staff

Tony Gonsalves
Tony is a graduate of Berklee College of Music where he majored in guitar and composition. He has over 20 years of teaching experience in guitar and violin and also teaches beginner level bass. Tony is fluent in Portuguese and Creole and also has a functional knowledge of Spanish. He has worked many years in the New Bedford Public School system as a special needs / para educator and is able to apply special ed teaching techniques with students who may be struggling with cognitive issues. Our studio is honored to have such a skilled musician / music educator on our team.


Brendan O'Toole
Brendan has been studying and performing music for over 30 years! He majored in music at UMass Dartmouth and also holds an Associates degree from Bristol Community College. He has been teaching guitar and beginner level bass since 1998, and specializes in emphasizing theory, technique, sight reading, ear training, and improvisation. Some of you may also recognize Brendan from his years of performing locally in numerous working bands as a guitarist and vocalist, or as a song leader in church, where he performs both traditional and contemporary Christian music. Brendan also teaches songwriting and arranging, drawing from his own personal experience with original music projects. We are thrilled to add this amazing teacher to our staff.



Ruth Monty
Ruth Monty has been a music educator for over 30 years. She holds a Bachelor of Arts in Music Education from Olivet Nazarene University in Kankakee, IL, as well as a Masters in Education in Music Education from Eastern Nazarene Christian College in Quincy, MA, and is a certified music teacher in MA. She began her private teaching career in 1985 at the former Music Center, where she taught for 15 years before leaving to teach full time in the public school system. Currently, she is the Music Director, organist and pianist for St. Joseph Church in Fairhaven, MA, where she also sings and directs the choir. Here at our studio, Ruth teaches both piano and music composition, as well as directs her students' piano recitals and has her own You Tube Channel for students! Piano Zone 138.

Linda Johnston
Linda Johnston is a graduate of The New England Conservatory of Music and holds a Master of Music in Piano Accompaniment with Distinction in Performance and a Bachelor of Music in Piano Performance with Honors. She has held positions at such prestigious schools as UMass Dartmouth, Franklin School for the Performing Arts, and New England Conservatory. In addition, she has served as an organist and choir director at several area churches throughout the area and most recently as director/organist-pianist at St. John Neumann in Freetown. She is currently the assistant Musical Director/Pianist for The Zeiterion Theatre, New Bedford. We are honored to welcome her to our staff!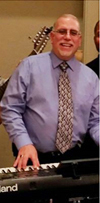 Mark Viera
Mark is a graduate of Westfield State College with an Associates degree in Music Performance. He began studying music at age 11 and continued through high school, college, and beyond with a concentration in piano, keyboard, and music theory. He was a student of Bob Jones of Roland Corporation Intelligent Keyboard Arrangers / MIDI in Clearwater, Fla. for several years. Mark is currently a music minister at His Sanctuary Ministries in North Dartmouth, MA, and has 17 years teaching experience focusing on piano, keyboard, and theory. He teaches all styles of music and gears his lessons around each individual's particular needs and interests. We are proud to have Mark as an addition to our staff.