News / Workshops
Our workshops and clinics are open to the public presented on a periodic basis.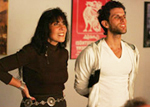 Many have featured special guest lecturers, including former student, Grammy performer, and platinum recording artist, Devin Lima, of LFO, as well as former student and international recording artist, Aoife Clancy. We also offer two Vocal Showcase performances each year.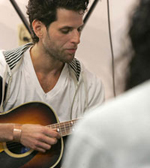 "Hot Pipes" Performance Development Workshop
is an interactive workshop for beginner and intermediate level students, focusing solely on the development of performance skills.

Students learn how to:
sell a song effectively
use music as a vehicle for self-expression and communication
develop their own personal style
connect with the audience
develop stage presence and command the audience
do a sound check and use proper mic technique
work the space / stage movement
properly prepare for a performance
implement effective stage fright remedies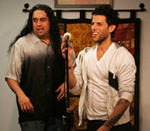 Students must have a song
prepared
to perform and must accompany themselves on an instrument or provide an accompaniment track. All participants are encouraged to dress as they would for an actual performance, in an outfit befitting their personal style and song choice.
Performance Coaching Clinic.
This is a special 4 week hands – on course geared toward intermediate and advanced performers.     
The clinic focuses on:
Performance Technique: including stage movement, mic technique, developing your own personal look and style, stage presence, and connecting with and capturing your audience.
Song Coaching: including stylization through use of riffs, embellishments, vibrato, etc., how to make a song "your own", singing with expression through the use of vocal inflections, dynamics, phrasing, accenting, etc., and how to use music as a vehicle for self-expression and communication.
Professionalism: including the value of proper technique
and practice habits, the importance of preparedness and
dependability, how to handle illness when you have a gig,
how to handle mistakes on stage, and how to handle
stage fright.
Participants must have two songs prepared to perform and must provide an accompaniment track or accompany themselves on an instrument.
Maximum class size 6

Two sessions:
Ages 13 and under 6pm -7pm;
Ages 14 to Adult 7pm - 8pm
4 wks. Paid in advance.
Call for workshop costs
When scheduled, workshop dates
will be posted here.
LIMITED ENROLLMENT
Vocal Health Workshop
Kelly Coucci, MS, CCC-SLP, Speech and Language Pathologist, and Clinical Director, Northeast Ear, Nose, and Throat. This is a workshop for singers, actors, and public speakers. Due to the alarming number of vocal problems I am hearing new singers coming into the studio with, as well as the shocking number of famous singers in the media with vocal damage, I have asked Kelly to teach this workshop again for adults and also at a much more elementary level for younger children. Believe it or not, we are seeing children as young as nine years old coming in with already serious vocal conditions due to improper use/abuse. This workshop will focus on how to maintain good vocal health and prevent damage, as well as make students aware of the dangers of misuse and abuse of their voice, which I warn against regularly.
Students learn:
what causes vocal damage and how to prevent it. Video footage of both healthy and injured vocal cords will be shown at the adult workshop.
common complaints of singers that may indicate a medical or physical problem.
common pitfalls for singers which can lead to vocal abuse/misuse and how to avoid these
how vocal abuse/misuse in speaking can negatively affect and impact you as a singer
how your voice is affected by various foods, beverages, medications, and alcohol and tobacco use
why some singers seem to be able to get away with so much vocal abuse/misuse while others cannot
Please check back again for future dates open to the general
public

.
If you are currently pursuing or considering a career as a professional singer
If you experience any type of vocal fatigue
If you sing any type of aggressive or vocally demanding style, such as heavy rock, Broadway, blues, or any type of powerhouse belting.
If you have a demanding gig/touring schedule
If you are STILL not applying proper techniques taught to you in lessons
If you have a job which requires excessive and/or loud talking i.e., teacher, receptionist, sales person, public speaker
Then this workshop is for you!
Regardless of the style of music you sing and whether or not you do it as a hobby or a career, proper technique and care of your voice can MAKE OR BREAK your future as a singer.
Photos on this page taken by Andy Gallagher.